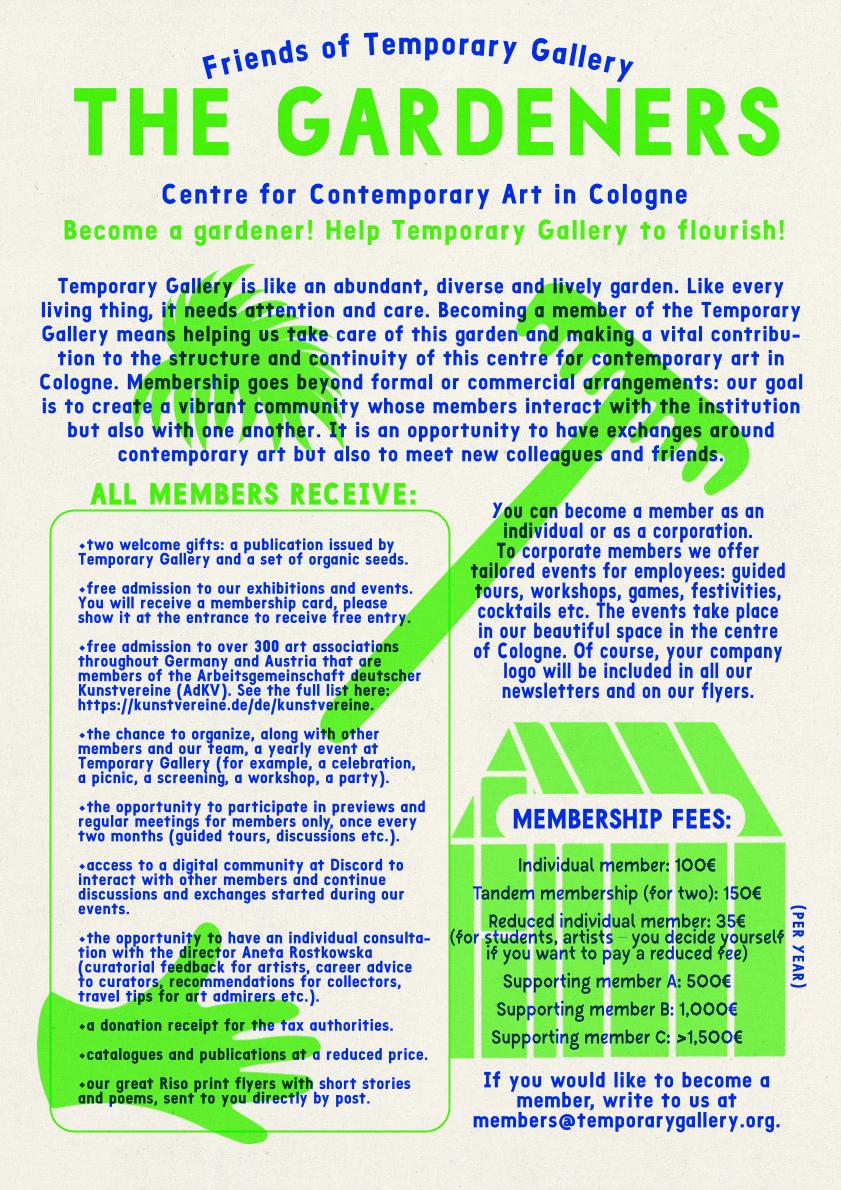 Membership
The Gardeners. Friends of Temporary Gallery, Centre for Contemporary Art in Cologne
Become a gardener! Help Temporary Gallery to flourish!
Temporary Gallery is like an abundant, diverse and lively garden. Like every living thing, it needs attention and care. Becoming a member of the Temporary Gallery means helping us take care of this garden and making a vital contribution to the structure and continuity of this centre for contemporary art in Cologne. Membership goes beyond formal or commercial arrangements: our goal is to create a vibrant community whose members interact with the institution but also with one another. It is an opportunity to have exchanges around contemporary art but also to meet new colleagues and friends.
All members receive:
• two welcome gifts: a publication issued by Temporary Gallery and a set of organic seeds.
• free admission to our exhibitions and events. You will receive a membership card, please show it at the entrance to receive free entry.
• free admission to over 300 art associations throughout Germany and Austria that are members of the Arbeitsgemeinschaft deutscher Kunstvereine (AdKV). See the full list here: https://kunstvereine.de/de/kunstvereine.
• the chance to organize, along with other members and our team, a yearly event at Temporary Gallery (for example, a celebration, a picnic, a screening, a workshop, a party).
• the opportunity to participate in previews and regular meetings for members only, once every two months (guided tours, discussions etc.).
• access to a digital community at Discord to interact with other members and continue discussions and exchanges started during our events.
• the opportunity to have an individual consultation with the director Aneta Rostkowska (curatorial feedback for artists, career advice to curators, recommendations for collectors, travel tips for art admirers etc.).
• a donation receipt for the tax authorities.
• catalogues and publications at a reduced price.
• our great Riso print flyers with short stories and poems, sent to you directly by post.
You can become a member as an individual or as a corporation. To corporate members we offer tailored events for employees: guided tours, workshops, games, festivities, cocktails etc. The events take place in our beautiful space in the centre of Cologne. Of course, your company logo will be included in all our newsletters and on our flyers.
Membership fees
Individual member: 100 EUR
Tandem membership (for two): 150 EUR
Reduced individual member: 35 EUR (for students, artists – you decide yourself if you want to pay a reduced fee)
Supporting member A: 500 EUR
Supporting member B: 1,000 EUR
Supporting member C: >1,500 EUR
If you would like to become a member, write to us at members@temporarygallery.org